What is Surgically Clean Air JADE?
One of the world's most advanced standalone commercial-grade air purifiers, Surgically Clean Air's JADE is an air purification system that removes almost 100% of air pollutants & harmful airborne particles, eliminates airborne chemicals & odours, filters dust & pollen, and re-energizes stale indoor air, making the air you breathe cleaner and healthier. It uses robust technologies that can filter, and re-energize large quantities of air at a whisper quiet volume.
Sanitization By Design offers a financing service to help equip more businesses with JADE air purifiers at the most competitive rate.
Model Name:

JADE SCA5000C

Dimensions: 12" x 12" x 33.5" (30.5 cm x 30.5 cm x 85 cm)
Weight: 30.6 lbs (13.95 kg)
CFM (Cubic Feet/Min): 153(Low), 230(Mid), 312(High), 406(Turbo)
Sound Level (Measured at 6 ft): 30-55 dB
Auto Function: Yes
Air Quality Sensors: Yes
Control Panel: Hand wave sensors
Power: 120V, 60Hz
HEPA-Rx Particulate Filter: Yes
Activated Carbon Filter: Yes
Germicidal UV-C+: Yes
Hydroxyl Radical Reactivity Chamber: Permanent
Revitalization Negative ION Chamber: Permanent
1st swipe: Fan speed low. Inner ring is illuminated
2nd swipe 2: Fan speed medium. Middle ring is illuminated
3rd swipe: Fan speed high. Outer ring is illuminated.
4th swipe: Fan speed turbo. All 3 rings are illuminated.
5th swipe: Auto mode. Fan will automatically adjust based on the air quality
Unit lock: hold hand just above unit and hold until you hear the unit chimes two times- the unit is now locked.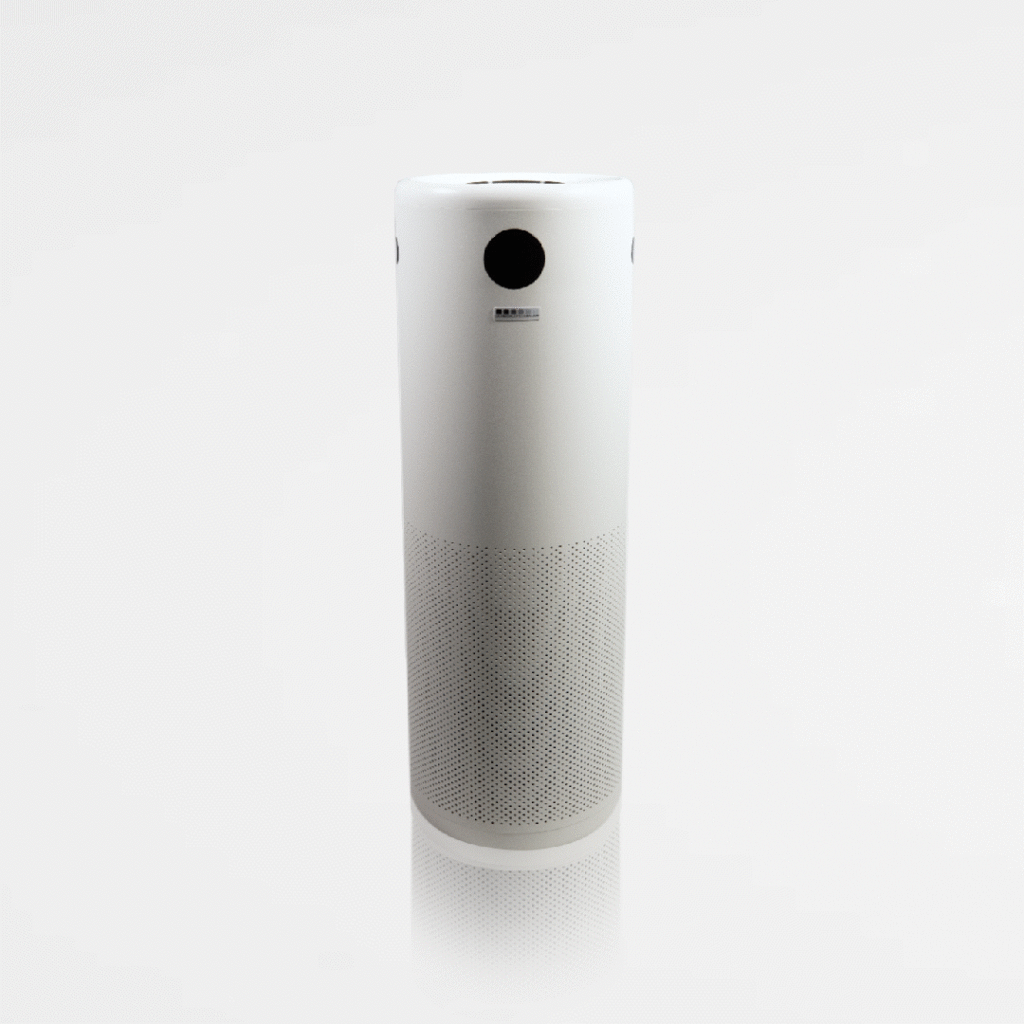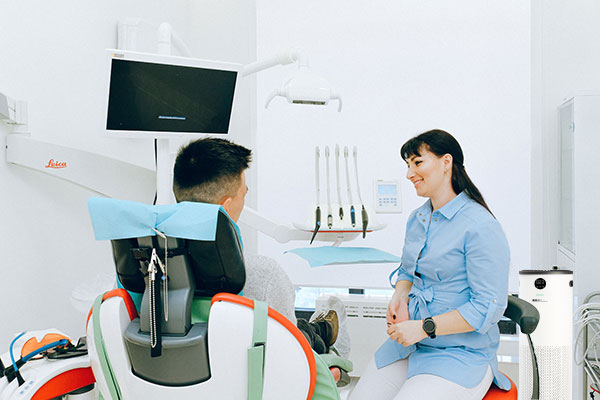 Clinical research study shows that the Surgically Clean Air JADE air purifier has an excellent performance in hospitals, medical labs, and dental clinics to remove contaminants from the indoor air.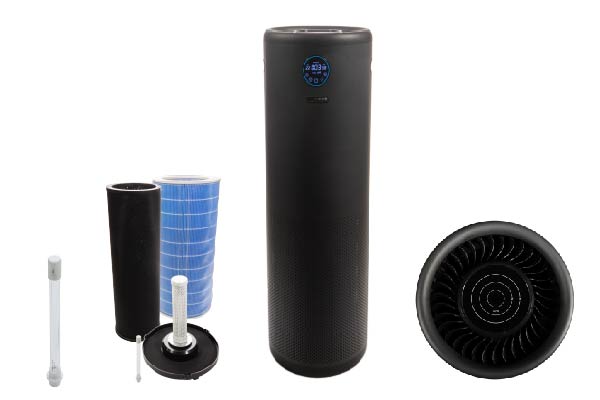 The JADE air purification system utilizes Surgically Clean Air's multi-stage air purifying technologies that work together to clean, purify, and re-energize the indoor air.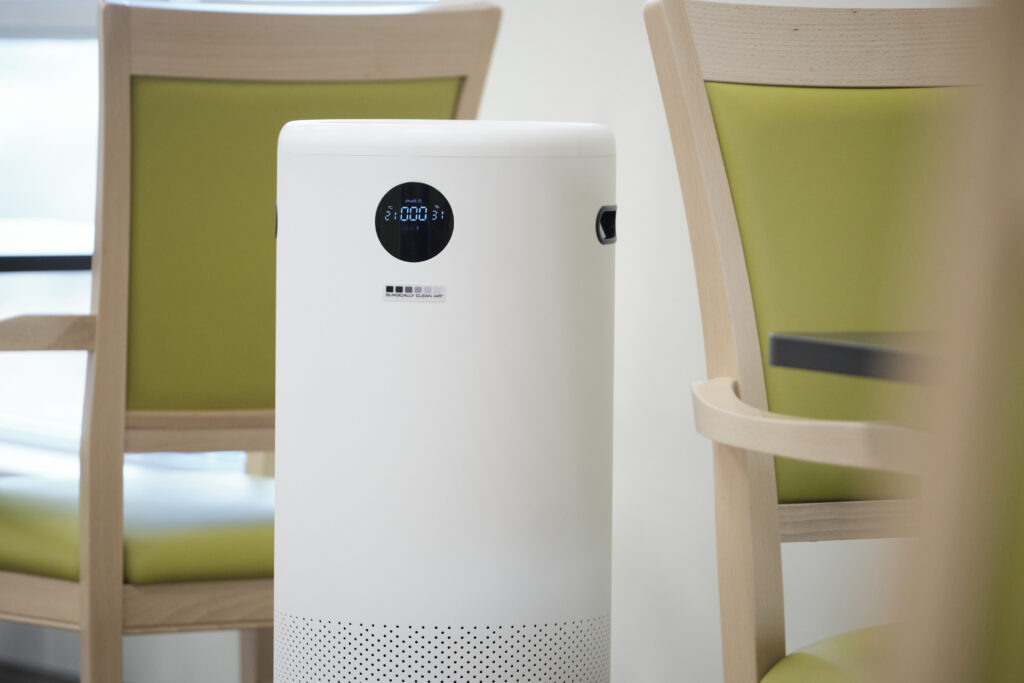 The clean lines, snow white colouring, slim profile, rounded corners, and cornice shape peak give Surgically Clean Air's JADE air purifier a contemporary and majestic look.
6 Multi-stage Filtration System
The JADE's multi-stage filtration system features a pre-filter that captures big particulates such as dust and pet dander. It also has a proprietary HEPA-RX filter that acts as a capturing layer for ultrafine particulates. Its next layer is an activated carbon filter that absorbs and captures volatile organic compounds and noxious odours. The kill chamber packs 3-punch layers to destroy over 99% of anything that remains in the air, rupturing the DNA of viruses & bacteria, effectively rendering them harmless. The JADE takes it one step further – re-energizing clean, pure, and sterilized air by creating negative ions within the revitalizing chamber.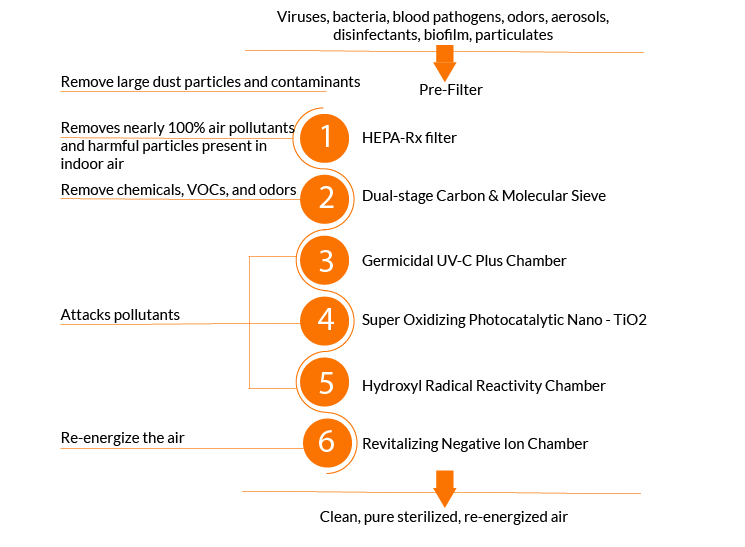 The Surgically Clean Air JADE offers superior air cleaning through sophisticated filtration systems, high volume airflow capacity, and lower sound levels than any other premium air cleaner that is readily available on the market today.
Get JADE air purifiers at the rate you can afford
Sanitization By Design offers a financing service to help more businesses and community organizations afford JADE air purifiers.