Sanilume® UVC Air Sanitizer

Sanilume is the world's  most powerful upper room air sanitizer that continuously and safely disinfects the air against most viruses and pathogens in occupied spaces using safe, proven technology. It is proven that Sanilume can eliminate SARS-CoV-2 in 0.3 seconds when the air is pulled through the fixture. 
Unlike traditional fixtures, Sanilume uses germicidal UVC  technology and a high capacity fan system. It cycles the room air through the UVC rays and fixture approximately every 2 minutes (400 sq. ft.) This creates approximately 35 total equivalent air changes per hour (eACH)
Sanilume is proudly made in Canada.
Dimensions: L 39" x W 14" x H 10"
Weight: 29 lbs
Average Room Size: 400 sq. ft
Equivalent Air Changes/Hr: 31.6
Room Air Exchange: Every 2 minutes
Fan Performance (8 fans): 25,440 CFH
Sound Level: 42 dB
Electrical Input: 113W
Frequency: 50-60 Hz
Lamp UVC Output: 23
UV Concentration: 75 watt UVC lamp
UV Wavelength: 254 nm Germicidal UVC
Lamp Lifespan: 10,000 hrs
Minimum Mounting Height: 7'9"
Construction: All aluminum with UV stabilized polycarbonate end caps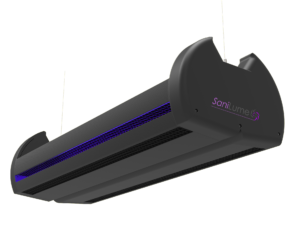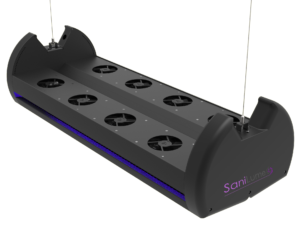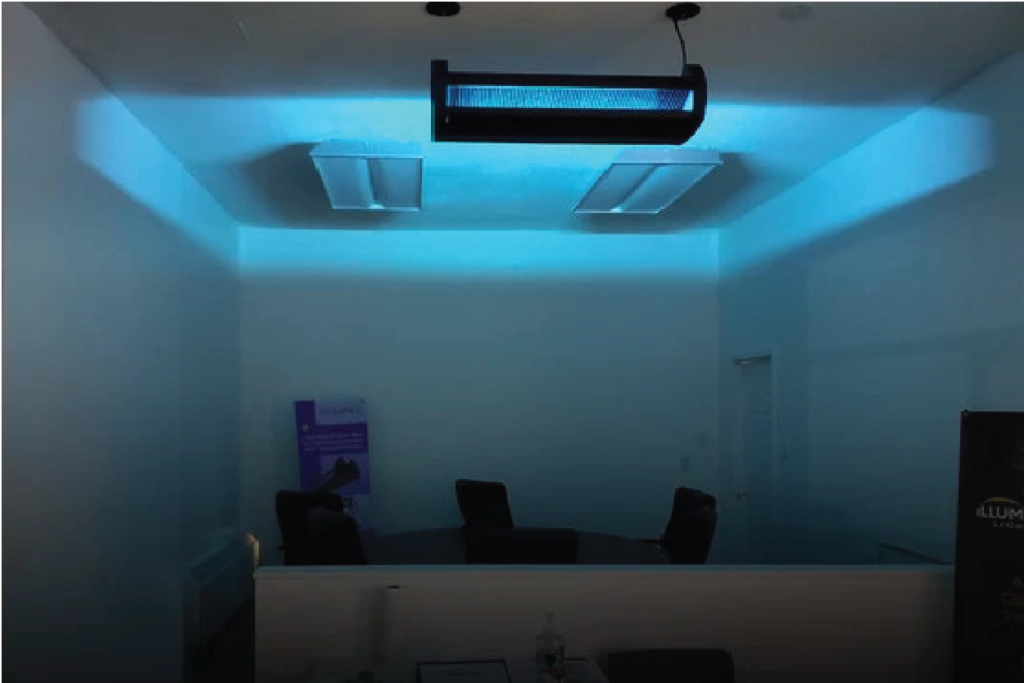 People Safe Pathogen Inactivation Zone
UVC light is directed to a narrow zone safely above people's heads to eliminate all strains of COVID-19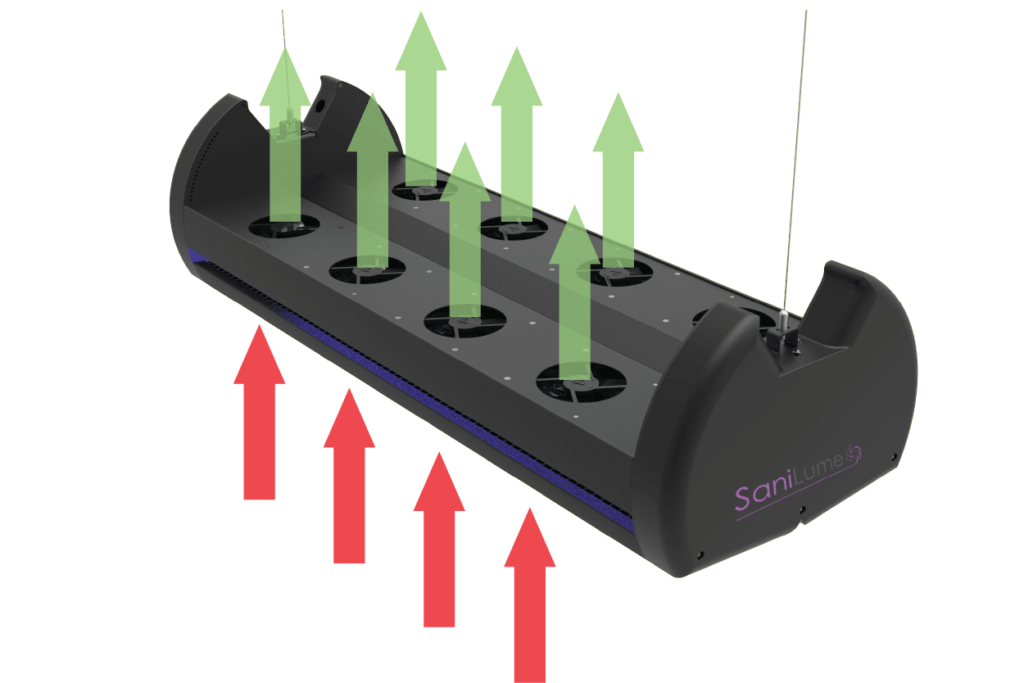 Enables more than 25,000 cubic feet of air per hour to travel through the fixture and the pathogen elimination zone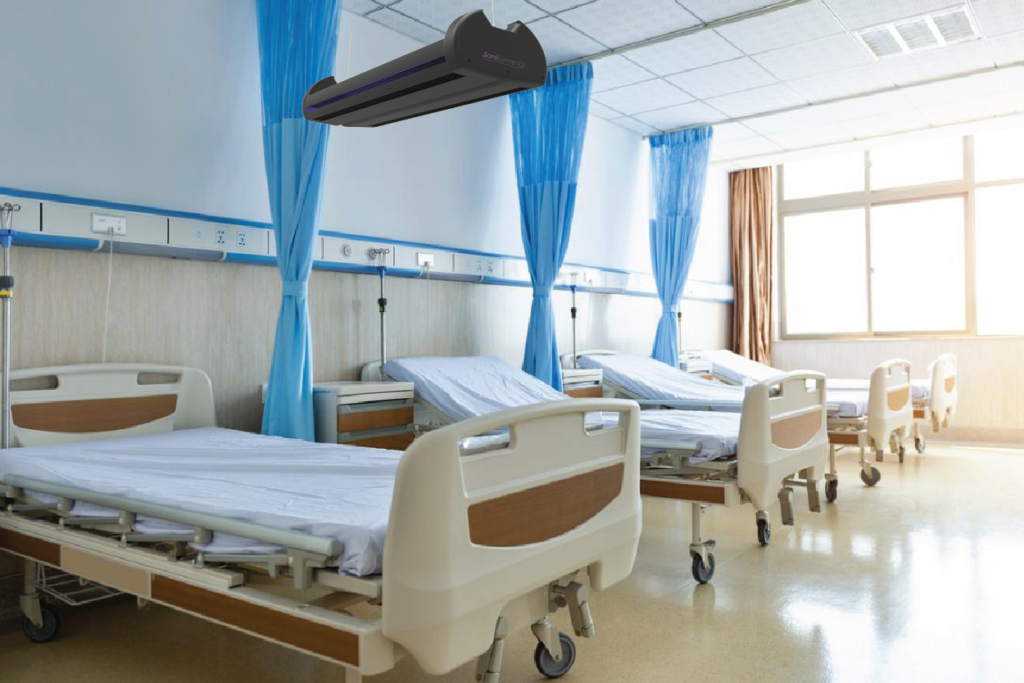 Provides effective 24/7 air disinfection for schools, gyms, offices, long care homes, and more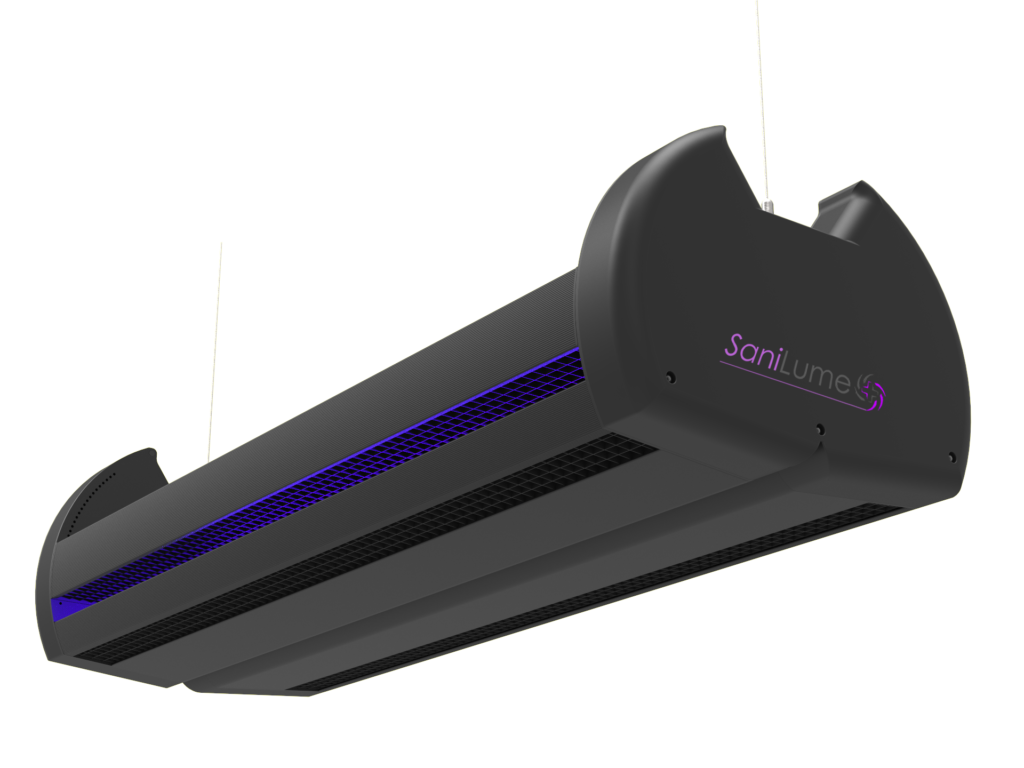 Most Effective Upper Room Air Sanitizer
With the patent pending germicidal UVC technology
Efficiently neutralizes bacteria and viruses
Disinfects the air in a 20′ x 20′ area approximately every 2 minutes
Safe to operate with people in the space
Equipped with 8 ultra-quiet fans and adjustable apertures
Using Sanilume's proprietary technology, UVC light is directed to a narrow zone safely above people's heads. Rising convection currents within the room are greatly amplified by this fixture and cycle the air through the pathogen elimination zone many times per hour.
UVGI or ultraviolet light in the 254-nm germicidal C-band wavelength (UV-C) can kill all known microorganisms, including bacteria, viruses, molds, and other pathogens.