Why Use Disinfectant Foggers?
Disinfection fogging is considered to be one of the most efficient and effective ways to clean and disinfect.
Disinfectant foggers allow for touchless applications, which can greatly lower the risk of cross-contamination. They are designed to wrap surfaces with a thin and even coverage in a smaller amount of time, helping to save time and labor.
Sanitization By Design carries a line of professional electrostatic and ULV sanitizing foggers. They are compatible with Vital Oxide, an EPA approved & Health Canada authorized disinfectant solution, for use against the coronavirus, as well as other bacteria and viruses.cl
ULV Cold Foggers/Sprayers
Max Fogger is great to be used in conjunction with Vital Oxide. It has a nozzle head to allow for greater maneuverability and make it easier to access hard to reach areas. It also comes with a handy shoulder strap for ease of use.
Recommended for residential and commercial use
Voltage: 110/120 V
Optimum Range: 15-20 ft
Tank Capacity: 7L
Flow Rate: 260 ml/min
Micron Size: 5-40
Weight: 6.1 lbs
Wire Length: 6m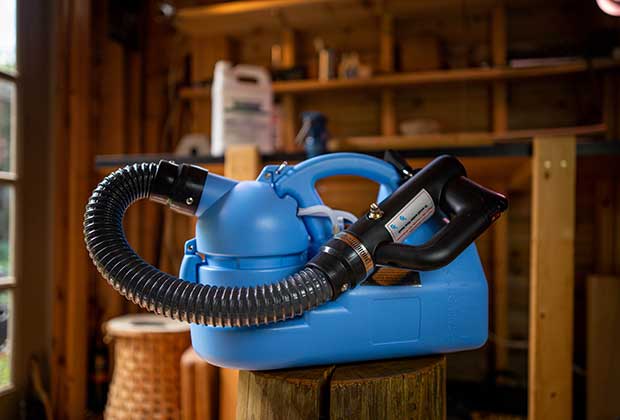 Small, lightweight, and easy to operate, Junior Fogger is an electric handheld disinfectant fogger manufactured in the U.S.It is extremely powerful for its compact size and ideal for small applications. Junior Fogger is also great to be used in conjunction with Vital Oxide.
Recommeded for residential and commercial spaces, vehicles, shops, offices, and restaurants.
Voltage: 110/120 V
Optimum Range: 3-5 ft
Tank Capacity: 64 oz
Flow Rate: 0-3 oz/min
Micron Size: 15-40
Weight: 4.3 lbs
Wire Length: 3m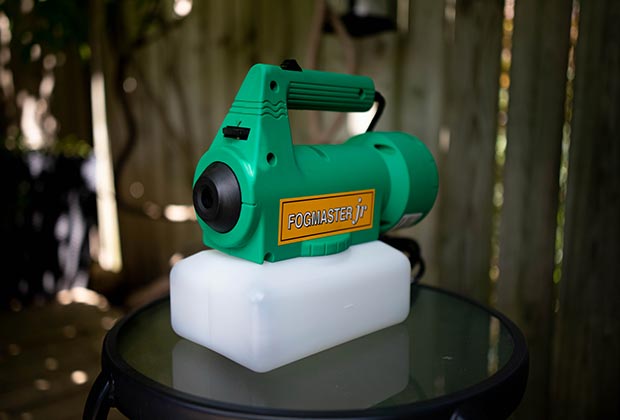 Power Fogger is great to be used in conjunction with Vital Oxide. It has an adjustable spray volume that is powerful to reach large distances. The fog releases in a conical shape for greater application.
Recommended for residential and commercial use
Voltage: 110/120 V

Optimum Range: 20-25 ft
Tank Capacity: 5L
Flow Rate: 150 ml/min
Micron Size: 5-40
Weight: 8.2 lbs
Wire Length: 6m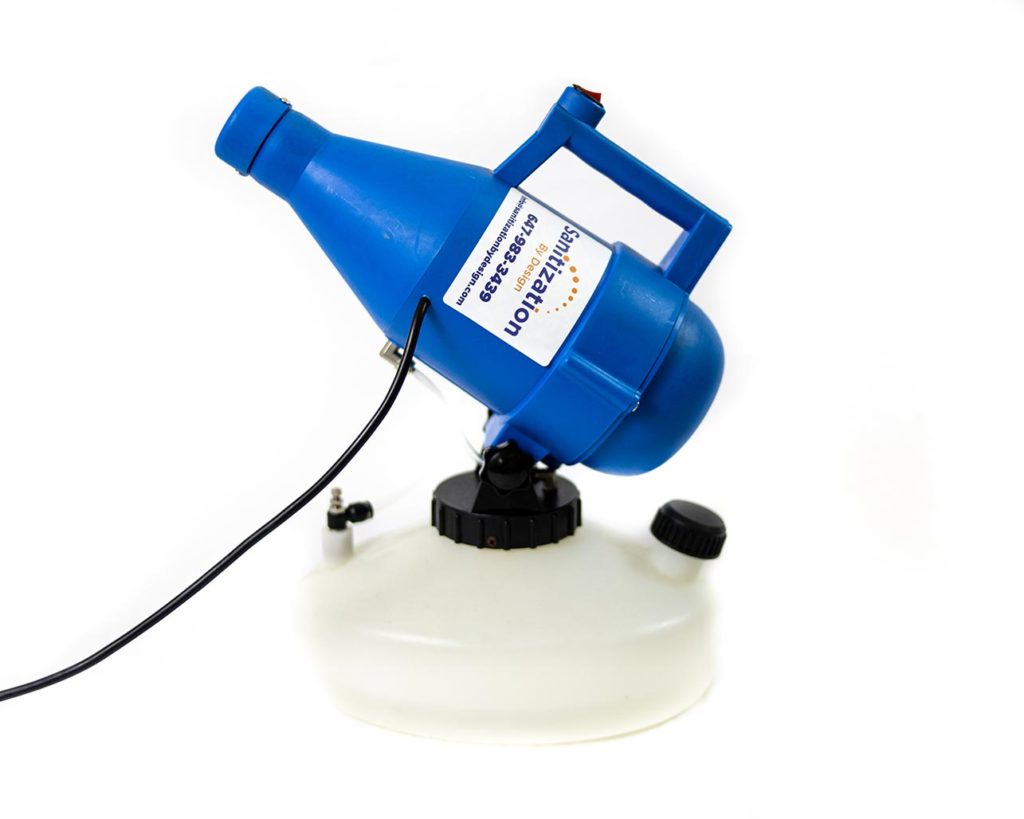 ELectrostatic Sprayers/Foggers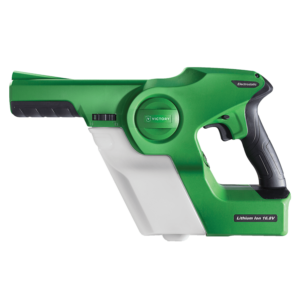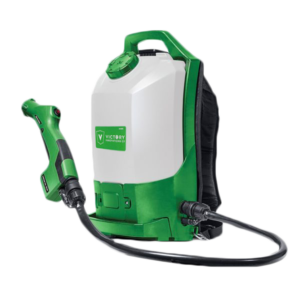 Victory® Electrostatic Sprayers
Available in two styles (handheld and backpack), Victory electrostatic sprayers provide an electric charge to solutions, allowing for more efficient application and better coverage. Cordless, lightweight, and portable, the sprayers can be used to sanitize and disinfect, remove odors, and decontaminate, without ever needing to touch or wipe the surfaces. 
Models: Handheld Sprayer | Backpack Sprayer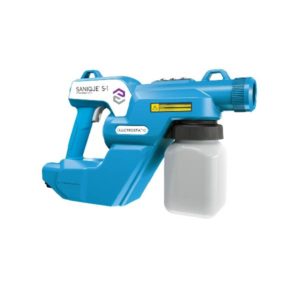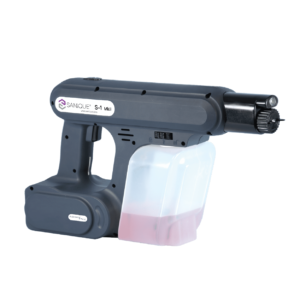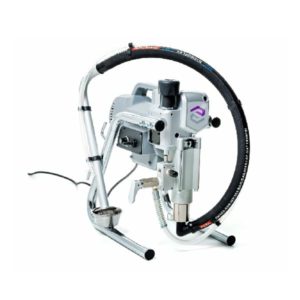 Sanique® Electrostatic Foggers
Sanique electrostatic foggers are designed for professional first responder sanitizing contractors. Using the principle of electrostatic induction, the fogger atomizes the solution to such a degree that it becomes a fogging spray – extremely small and light drops, which effectively reaches every point of the area to be treated.
Models: S-1 Gun Sprayer | S-1 MKII Gun Sprayer | S-3i Sanitizing Sprayer
Onix Fogger (2 Batteries)
Onix Fogger is a battery-operated electrostatic handheld fogging machine. Compact and lightweight, the fogger is easy to operate and great for small applications. It can pair with Vital Oxide to deliver clinically clean results.
Voltage: 20V
Optimum Range: 10 ft
Tank Capacity: 2 L
Flow Rate: 1.7 – 2.4 oz/min
Micron Size: 50-70 micron
Weight: 2.9 lbs
Wire Length: cordless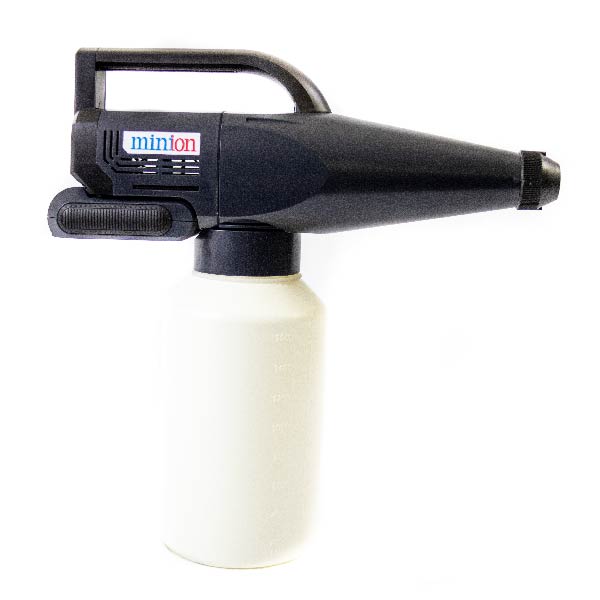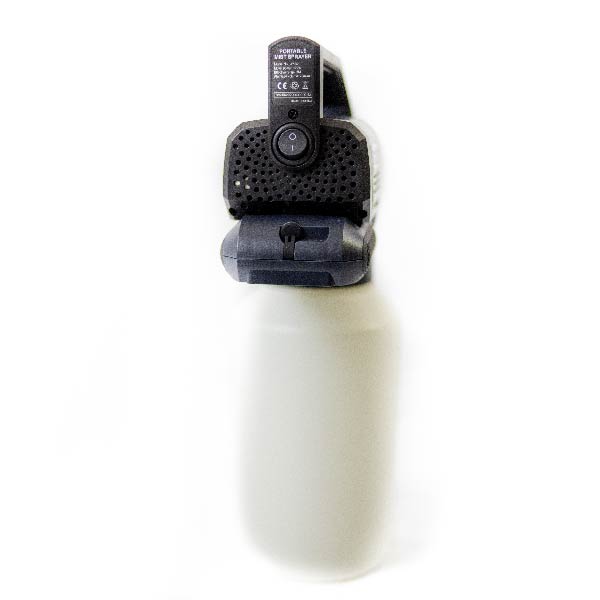 We have clients from a wide range of industries using a sanitizing fogger to apply Vital Oxide for better disinfecting results. Watch the videos below to see how some businesses and community organizations clean and disinfect their facilities using an electrostatic sprayer or ULV cold fogger.